Stay overnight with the Moose!
Our new our uniqe lodging in the cottage Solviken is now officially open! The cottage is originally from the second half of the 18th century and used to be a small farm with a tiny house and a little barn where there is now a sauna.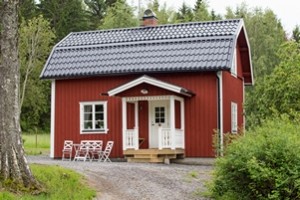 There were some small fields to farm and a few animals – a tiny farm of its own in the old days. Now it has been renovated, keeping the historic touch and adding all modern comforts that we enjoy!
Included in the package:
Coffee/tea and sandwich with moose sausage when you arrive at the park.
Exclusive Moose Tour with Leffe.
Transport to the cottage.
Sheets and towels included.
Access to the sauna in the refurbished barn.
Breakfast.
Transport back at the agreed time the next morning.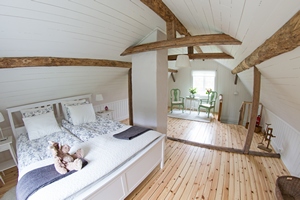 You can have a sauna, enjoy the silence, rest, sleep, enjoy nature and all of this with the moose just outside the house. After breakfast we will pick you up and take you back to civilisation.
Package price:
3990 SEK including 2 people. 2 extra persons can sleep in a sofabed downstairs, additional cost 1000 SEK per person, children 800 SEK
Maximum 4 people.